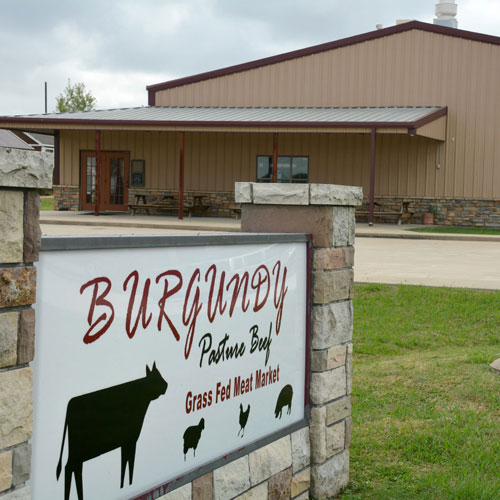 Grass Fed Beef Butcher Market
800 McDuff Ave
Grandview, TX 76050
817-866-2247
LynAnne Walden – Manager
Hours of Operation:
Monday – Friday 9 am - 5 pm
Closed Saturday & Sunday
Yes! Please send me updates and sale notices for Burgundy Boucherie in Grandview.
Your contact information is private and we do not share this information with any other business!
Burgundy Boucherie - Grandview
Come to our store and shop for the best selection & quality of Pasture-Raised meats than you will find anywhere and many other complementary offerings like raw milk cheeses, pastured eggs, and more.

We offer an extensive selection of chilled cuts (never frozen) ready-to-prepare or frozen cuts ready to stock the freezer.
Sustainable, delicious, healthy and LOCAL – we are proud to serve the North Texas community.
Top Sirloin
Beef Frankfurters
"Best Burger" Ground Beef Patties
Pork Shoulder Roast
New York Strip
Pasture Raised Chicken
Beef Kabobs
Bratwurst
Chicken Tender
Rib Eye Steak
We offer these meats and more….
100% Grass Fed Beef
100% Grass Fed Lamb
Pasture Raised Pork
Pasture Raised Chicken
Free Range Eggs
Raw Milk Cheese
Beef & Chicken Bone Broths (or we have what you need to make your own!)
Local Raw Unfiltered Honey
Himalayan Salt
Some items may be limited or out of season, so call if you are traveling to pick up a particular cut.
Place a Special Order
By special request we can fill large orders, special thicknesses on steaks and just about anything else. Whole Tenderloins and Rib Roasts cut upon request. Large Quantity Discounts offered on select cuts (in-store shopping only).
Contact our Burgundy Boucherie in Grandview to start a conversation.